RELEASED IN SEPTEMBER 2011...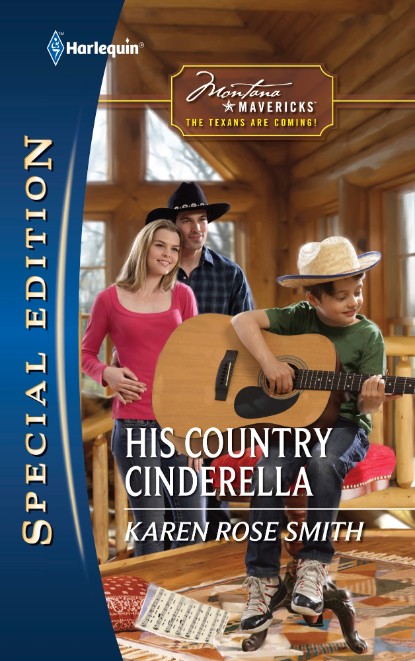 Copyright: 2011 by Harlequin Enterprises Limited
Cover Art used by arrangement with Harlequin Enterprises Limited
Trademarks owned by Harlequin Enterprises Limited or its affiliated companies, used under license.
HIS COUNTRY CINDERELLA
by
KAREN ROSE SMITH
Montana Mavericks: The Texans Are Coming!

Hold on to your Stetsons! A reliable source tells me that Zane Gunther is hiding out in Thunder Canyon. Now the tweets and texts are flying about the music legend and a certain single mom who's having trouble making ends meet….
Zane came to the Montana mountain town to escape the paparazzi—and a tragedy he can't forget. But keeping a low profile seems next to impossible, especially once he falls—hard—for local girl and single mom Jeannette Williams. Is this cowboy looking to make a home in Thunder Canyon?

Stay tuned, loyal readers, to see if Zane is getting ready to propose to the waitress who's already gaga over him…by crooning a love song straight from his heart!

Review:

The Montana Mavericks: The Texans are Coming! series continues with a novel that is extremely moving plus compelling. Karen Rose Smith once again charms her readers with a story of finding love when neither individual had thought they were ready for a lasting relationship. Amelia Richard, CataRomance.com

Click on the "September Excerpt" button to read an excerpt from HIS COUNTRY CINDERELLA.