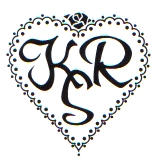 KAREN ROSE SMITH
USA Today best-selling author Karen Rose Smith was born in Pennsylvania in the Susquehanna Valley. As a teenager, music became as important to her as reading. The Beatles were her favorite group. She and her cousin took their first sojourn into writing by collaborating on a script for the MONKEES television program. They sent that script to every concert venue where the group appeared that summer!
In college, Karen began writing poetry and also met her husband‑to‑be. They both started married life as teachers, but when their son was born, Karen decided to try her hand at a home decorating business. She returned to teaching for a while but changes in her life led her to writing romance fiction. Now she writes mysteries and romances full‑time. Her first romance was published in 1992; her 97th novel will be published in 2017. She has also indie-published her Search For Love series as well as other e-books. A winner of New Jersey's Golden Leaf Award in Short Contemporary Romance, Colorado Romance Writers Award Of Excellence for short contemporary, as well as the Phoenix Desert Rose Chapter's Golden Quill for Traditional Romance, she has also been honored with Cataromance.com's award for Best Special Edition.

Married to her college sweetheart , believing in the power of love and commitment, she envisions herself writing relationship novels for a long time to come!